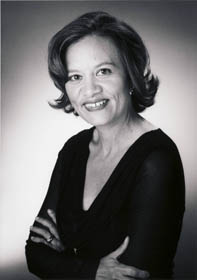 Award-winning composer/pianist Emily Wong has written a large catalogue of works for piano, chamber ensemble, and orchestra. Her music has been performed at the Moab Music Festival, the Cabrillo Festival of Contemporary Music, Eckankar seminars around the U.S., and by The Colorado Symphony Orchestra, the Chappaqua Orchestra, and such groups as the Locrian Chamber Players, MusicArts Ensemble, The Concert Artists of Chappaqua and the Ragdale Ensemble.
Ms. Wong is currently working on an opera in Italian based on Romeo and Juliet with librettist Tommaso Sabbatini, commissioned by the International Opera Theater. The Premiere is scheduled for August of 2008 in Città della Pieve, Italy, followed by a U.S. Premiere at Gershman Hall in Philadelphia in 2009. She is concurrently working on a composition for solo harp, commissioned by harpist Amy Berger, for performance in October of 2007, and a Concerto for Alto Saxophone to be premiered in the fall of 2008 at Colby College.
Ms Wong's music engenders genuine and enthusiastic responses from audiences of all ages. Performances are inevitably followed by requests for scores and recordings. Her performance of Circle Dance for solo piano in recital at UCSC in 1998 triggered a request from conductor Marin Alsop for an orchestral piece. Waves and Raves
was a result of that inquiry, dedicated to Ms. Alsop, and was premiered by the Cabrillo Festival of Contemporary Music Orchestra in August 2000, with the help of a Meet the Composers Grant. Consequently, Ms. Wong received a commission for a large-scale work from the Concordia Orchestra in New York, which resulted in her Symphony #1/Structures III, previewed in August of 2003 at the Cabrillo Festival of Contemporary Music, and premiered by the Colorado Symphony Orchestra in October 2003, receiving critical support for both performances. In the same year, Ms. Wong released a CD of her own works entitled Original.
Ms. Wong has a growing list of works for chamber ensemble, the most recent being a commission from Colby College for the opening concert of their chamber music series in October of 2005. Entitled The Lamb Suite, this work is based on familiar children's themes with a lush middle movement that evokes the mystery of dreams via the use of the alto flute and soprano sax. Her piano quartet Tribute, written for the Concert Artists of Chappaqua, became her piece in response to the tragedy of 9/11 due to the timing of the commission. It has consequently become a requested piece, and been performed by numerous ensembles. Her earlier Aprés le Tango (1998) for flute and piano was inspired by the lingering sounds of music heard that year as she learned to dance the tango, and was described in the New York Times as "a graceful work for flute and piano, in which tango rhythms seem to be recalled as if through a nostalgic haze."
Ms. Wong began her professional career as a pianist. She was a 1st Prize winner of the Hodges International Concerto Competition, the Schubert Competition, and has won numerous other awards as both a soloist and chamber musician. She has gone on to champion the works of many living composers including her own, and has been highly praised for her interpretations of contemporary as well as traditional piano literature. Critics have portrayed her playing as passionate, enthralling, brilliant, and refined. The New York Times characterized her performances as "clean and rhythmically charged" and "played beautifully", while Phil Collins of the Santa Cruz Sentinel wrote "She swept through the work with a magic wand … the dazzle was in itself splendid."

As a pianist, she has appeared often with such orchestras as the San Francisco Symphony, the Oakland Symphony, Philharmonia Virtuosi, Continuum, American Composers Orchestra, and the Stamford Symphony. She has performed at the Sarasota, Idriart and Cabrillo Festival of Contemporary Music, on the New York Philharmonic Chamber Series, and in the Summer Garden Series at the New York Museum of Modern Art in solo recitals of the works of Igor Stravinsky and Eric Satie. An active chamber musician, she has appeared in concert with such artists as Nadia Solerno-Sonnenberg, Mark O'Connor, Ani Kavafien, Philip Glass, and members of the Tokyo String Quartet. She is currently a member of the critically recognized Locrian Chamber Players, the New York-based ensemble dedicated to presenting works composed within the past decade.
She received her Bachelor of Fine Arts from the California Institute of the Arts, where she attended classes with Harold Budd and Leonard Stein, and studied African music and dance with the Ladzekpo family, and piano with Leonid Hambro. Later she completed her MM and DMA at the Juilliard School where she worked with Herbert Stessin and John Browning.